Here is all you need to know about these magnificent sea cliffs. We cover how to get there, the beautiful viewing point, the more challenging 'Pilgrims path', the harrowing 'One man's pass', and a special little treat that most never get to discover. Read on to learn more.
Looking to Visit Slieve League during your stay in County Donegal, Ireland? This article might seem a little bit long, but we're here to give you everything we think you'd want to know – including some of the hidden gems that far too many people never discover.
Slieve League is a mountain range that falls off steeply into the Atlantic Ocean, resulting in some of the highest and most beautiful sea-cliffs in Europe.
The Cliffs of Moher get a lot of attention but few know that Slieve League towers a staggering 609m at its peak – nearly three times the height of its southern counterpart. The best part? Slieve league is free for the public to access.
Slieve League offers breathtaking views for all types of visitors,whether arriving by car, or those willing to take the scenic hiking route. Details of directions, parking spots (plus some local tips) and hiking routes can be found below.
Make sure to include Slieve League on your trip along the famous 'Wild Atlantic Way'.
The four sections below will guide you through this article. 
Slieve League Viewing Platform:
Slieve League has a designated viewing point that offers the most spectacular view of the cliffs. When heading toward the Bunglass Viewing Platform, drive past the visitors centre which will be on your right hand side. There is some overflow parking available at this centre.
Drive to the gate just ahead of the visitors centre near the 'Bunglass Car park'. Once at this gate, open it and drive on; the gate is only there to stop sheep. Please be sure to close the gate behind you though. Beyond the gate, there is a fairly narrow road leading to the viewing platform. The choice as to whether to hike this road, or drive it is purely up to you – Both are equally beautiful.
If you chose to drive, park your car at the top of the hill and take in the wonderful view of the 180% vista view of Donegal Bay before you, and be utterly transfixed on the magnificent Slieve League cliffs rising up across from your vantage point. This begins your journey to the top of the Cliffs, as you follow a stone path up along the ridge of the cliff face. The early part of the path is suitable for beginner hikers and casual day visitors with moderate fitness levels. More experienced hikers can continue further and many have traversed the whole route from Bunglass Point though to Malin Beg (roughly 6 hours single direction).
Please note: An alternative route exists up Slieve League via the Pilgrims Path. More information on this can be found below.

Looking to visit? Book your stay with Aras GCC B&B. We're a short drive away.
The Pilgrim's Path: Slieve League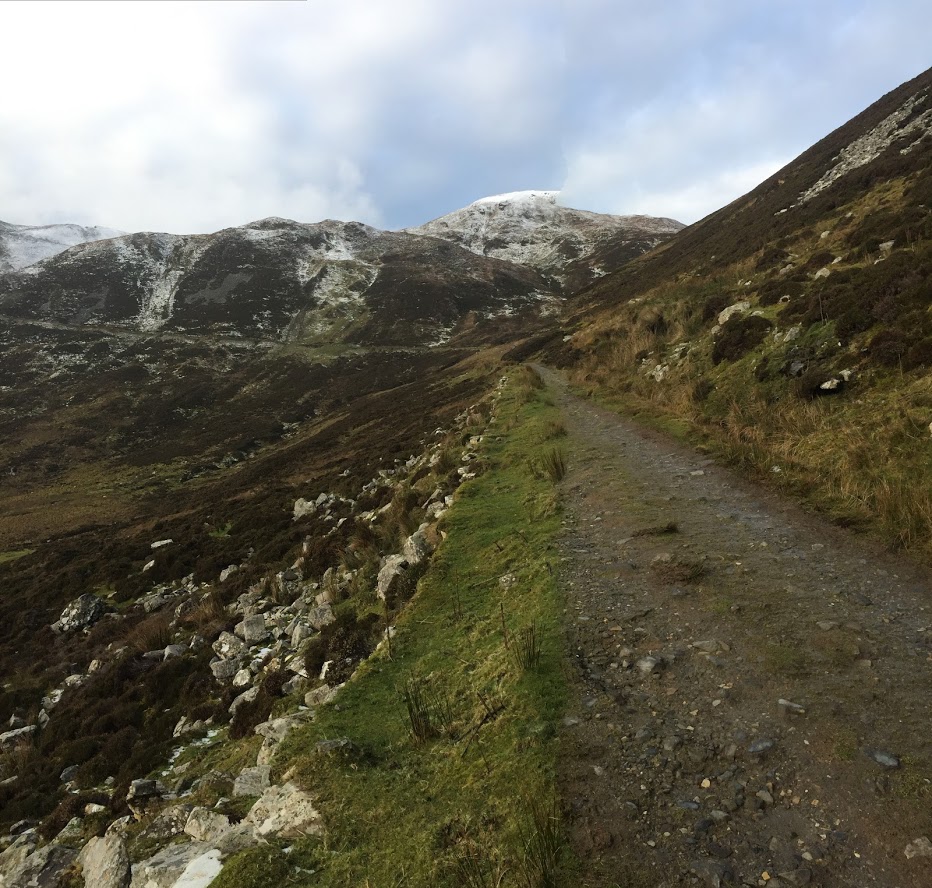 The Pilgrim's path takes you to a different starting point than the viewing platform mentioned above. On your way to Slieve league, keep an eye out for the sign post leading you to the right, pointing you towards the Pilgrim's path. Please see the image of this sign below. If you pass the 'Rusty Mackerel' pub, you might as well have a pint before turning around, because you'll have missed the sign – probably better after the hike though.
The Pilgrim's path starts out fairly easy, with a sandy trail like you see here. Be warned though, the trail soon becomes rocky terrain. Make sure to keep an eye out for yellow rocks and wooden posts that mark the way. The trail is a total of 2.8 kilometres in length, with a vertical elevation of 420 metres. Expect a one way trip to take around 90 minutes for the average hiker.
The weather can turn on you really quickly. In the pictures below you'll see one where we got snowed in during the route. We started on a sunny day and finished in snow. We advise taking several extra layers, gloves, snacks, waterproof clothing, water, and a flashlight. Be extremely mindful of sunset times, as you could end up on this cliff far longer than planned if the path gets muddy. Wear proper hiking boots (ideally waterproof); this terrain isn't suitable for sneakers.

Looking to hike this trail? Book local accommodation 15 minutes away. Aras GCC is your B&B of choice nearby. We often take guests up to the start of the trail, or provide a map and guidance at no extra cost.
One Man's Pass: Slieve League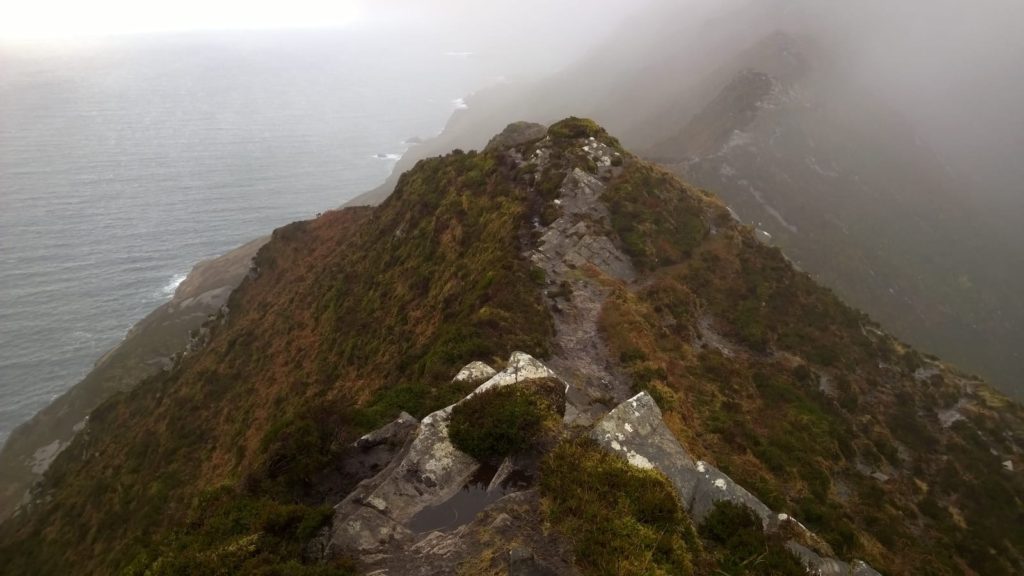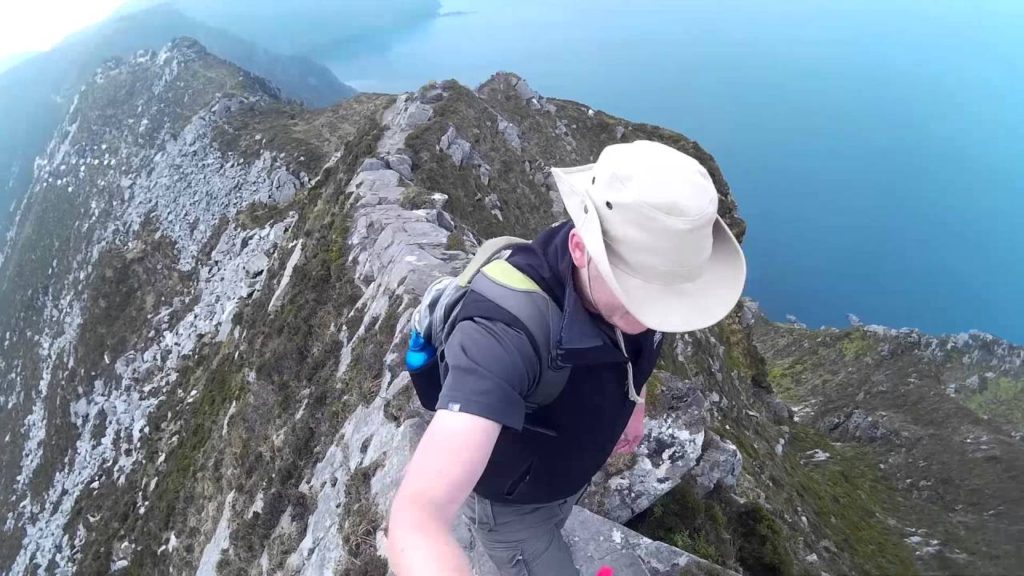 This truly loves up to its name. Aptly called 'One Man's Pass' due to the narrow ridge that is just walkable. Other names include 'One Man's Path', or 'that knife edge at Kerringear'. The grey ridge you see to the left is the width of a single person. Pictures do this path no justice, making it look only half as daunting as it truly is. The left angles down at a slope of around 60 degrees, while the right is a tamer 45 degree slope.
The path itself can be tricky to find, and there are no signboards to help you find it. We recommend this only to experienced hikers, and ideally parties of 2 or more.
One Man's Pass is probably best avoided by the inexperienced, or even by the experienced if they aren't a fan of heights. The route will have you on your hands whilst looking down 500m into the sea on the left. We don't mean to put you off it; it is incredible beautiful and an experience to remember. We just want you knowing what you're in for.
At the top of the Pilgrims Path (see above), turn to the right (if the ocean lay before you) and follow the top of the cliffs for about 500 metres. You will notice the path narrowing, before finding the start pictured here. Sometimes words only go so far. Check out the video below by Ivan Millar on his Youtube Channel.
Napoleonic Era Signal Tower: Slieve League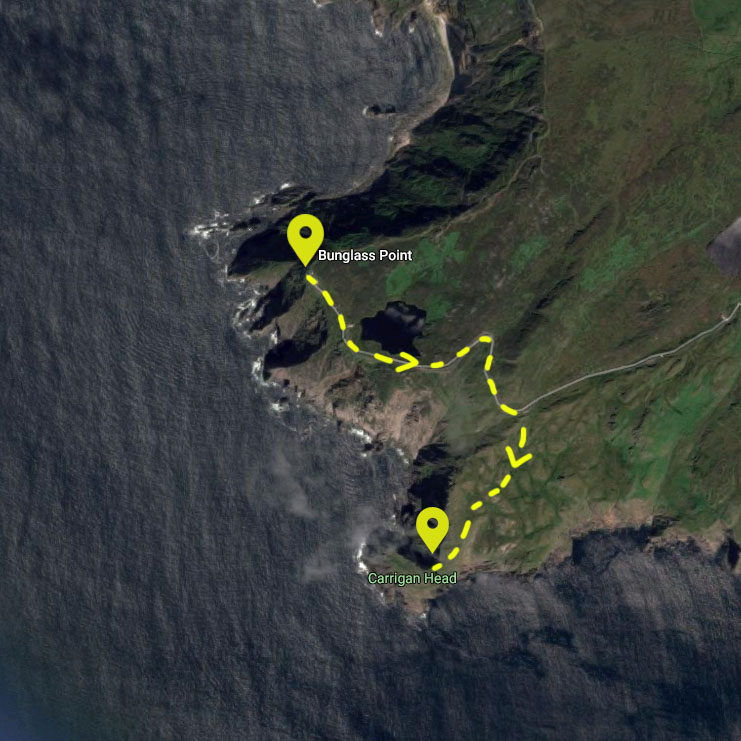 And now for our little hidden gem, as promised earlier in the blog. About a 1 km walk back down the hill from the top car park at Bunglass Point, you will find a stone obelisk. Turn towards the sea and follow this path through the hillocks until you come to this watchtower, as pictured below.
The tower stems from the Napoleonic era, a remnant of warring countries. The towers were erected and stationed between 1804 and 1806, normally housing between 8 to 12 men. The signal towers were not designed to hold heavy artillery, and therefore have fairly light defences. Their intention was to raise alarm if the French decided to invade by ocean. However, the threat of invasion was significantly diminished following Napoleon's defeat at Waterloo in 1815.
The signalling system required that each signal tower be visible to each tower on either side. Sending a message involved raising and lowering a large rectangular flag, a smaller blue pendant and four black balls in a variety of combinations along a system centred on a tall wooden mast.
If all of 81 stations proposed in the 1804-6 plans were operating at the same time, a signal could travel 1,076km around the coast of Ireland.
Aside from all that, the walk there is as beautiful as the views and the tower itself. Be sure to check out this historically significant site.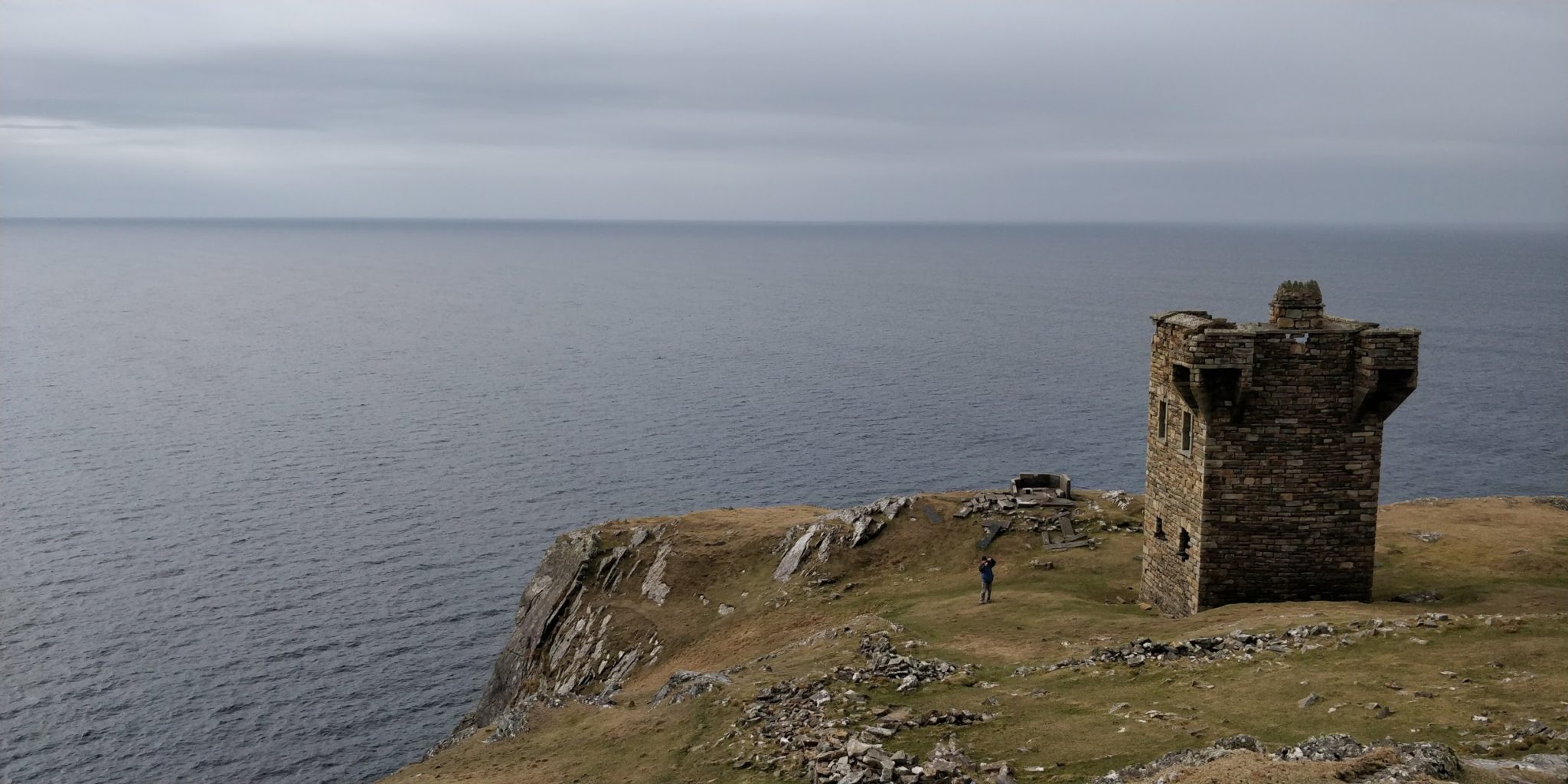 Let others know about this article. Click to share >
Ready to visit? Book your stay with Aras GCC B&B. We're a short drive away. Ireland awaits.