Discover Silver Strand Beach:
Here is all you need to know about the beautiful white sands of Silver Strand Beach, located in West Donegal, Ireland. We cover how to get there, show you the beach from the cliffs and from the sands, and then head into the water to show you some snorkelling attractions. Let's jump in.
Video tour of Silver Strand Beach (Malin Beg)
or scroll down for the article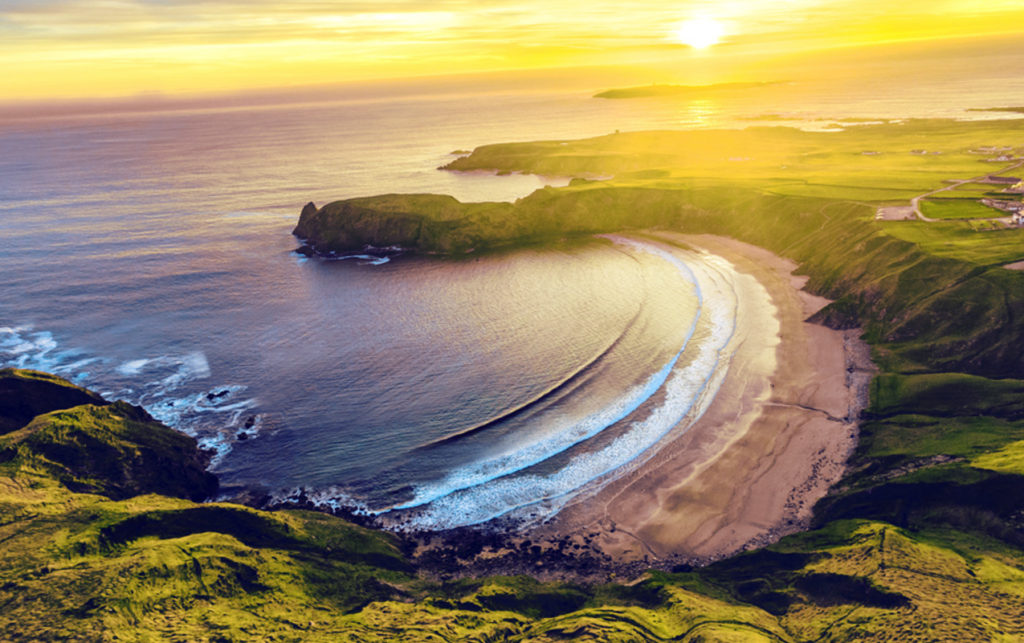 Silver Strand Beach (also known as Malin Beg, Malainn Bhig or Trá Bán) is a secluded little beach in a horseshoe shaped bay located near Glencolmcille, southwest Donegal. Almost everything here goes by several names, but that's part of the charm of Gaelic and English intermixing. Forming part of the Wild Atlantic Way, and located only 4.6 kilometres (7 mins by car) from Aras BnB, this stunning beach is easily one of the best local attractions. Many travellers in the area come for the majestic Slieve League Sea Cliffs (see our article on them here), not realising how much more the area has got to offer–such as this hidden gem.
Throw some sandals and a beach towel into your bags and make the most of this secluded beach during your travels. The beach is dramatised by high cliffs on all sides, forming a perfect alcove and shelter from the wind to form a perfect sun trap. Around 174 steps take you down onto the pristine white sandy beach, where sheer rocky cliffs are met by the soft sands. Just off to the west of the beach lies the remains of tower fortifications from the Napoleonic era, easily visible from atop the beach. 
To the other side lies the headland which rises up to the top of Slieve League Sea Cliffs. Many a hiker take the trail from the Slieve League viewing point all the way across the crest of the mountains and down into this beach, forming a roughly 6km hike that should take most people 5-6 hours. The hike follows ancient pilgrim paths and offers some of Ireland's most dramatic scenery, from 609m high sea cliffs falling off into the ocean, to bogs and rocky outcroppings, perfectly finished by an arrival on the white sands of Silver Strand Beach.
Malin beg is popular for swimming, diving and snorkelling. Make sure to check out the video posted above, where we jump into the water and show you a bit of the snorkelling. In summer months the water is perfectly pleasant and you could easily spend 30 minutes in the water with a simple swimwear (we only use a wet-suit to stay in for longer). The beach doesn't have a lifeguard, so keep an eye on children and other swimmers; it is the wild Atlantic ocean after all, but the bay is very sheltered and typically calm.
If you're visiting outside of the July / August season, there is a good chance you could find yourself alone on this beach. It seems unbelievable that a place of this beauty is visited by so few people, but we sort of like it that way. 
Tips to make the most of this beach
Go when the tide is at its lowest for the maximum impact of this beach; low tide also offers much calmer waters typically and the marine life (both fish and seaweeds) are much easier to see. Parking accommodates about 30 cars and doesn't tend to get too busy outside of July/August months. Snorkelling the right side of the beach(if you face the water) offers shallow waters of about 2-3m at lowtide with plenty to see. The left side of the beach offers an interesting cave to snorkel through (see the video above). Make sure to not take any risks if the water is rough, and never go swimming alone.
Directions from Carrick or Aras BnB
From Carrick: follow signs for Glencolmcille from Carrick, turn left for Malinbeg before reaching Glencolmcille. Safe, sheltered beach, no lifeguard.
From Aras BnB: turning right out of our Bed and Breakfast, follow the road for circa 200 yards (metres) to the first junction, where you turn left. Follow this road as it soon runs along the ocean side all the way to Silver Strand Beach's car park. Nice and simple. The route is a short 4.6 Km, and takes about 7 minutes by car or 25 minutes on one of our rented bicycles.
Please note that this beach has 174 steps down the side of a very steep cliff. There is unfortunately no wheelchair access down to this beach, so anyone with limited mobility is advised to consider other beaches such as Fintra Beach, only 25 mins away from Silver Strand. Fintra Beach is located in Killybegs and offers a beautiful wheelchair accessible sandy beach. 
Looking to visit? Book your stay with Aras BnB. We're a short 7 minute drive away from Silver Strand
Let others know about this article. Click to share >